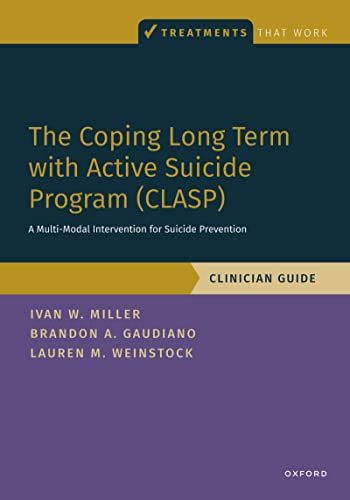 Three Brown Psychiatry and Human Behavior faculty have written a new book, Coping Long-Term with Active Suicide Program (CLASP): Clinician Guide, published July 22 by Oxford University Press in its "Treatments That Work" series. Based on fifteen years of clinical and research work, the book provides clinicians with a highly successful roadmap to reducing suicide risk in vulnerable patients. 
In seven chapters, professors Ivan W. Miller, PhD, Brandon A. Gaudiano, PhD, and Lauren Weinstock, PhD, expand on their successful 2017 project – one of the largest studies of suicide prevention conducted in the United States – which found the novel "Coping Long-Term with Active Suicide Program" (CLASP) intervention to be effective in reducing suicidal behavior in high-risk patients discharged from emergency departments (Miller et al 2017). 
Additional CLASP studies, including smaller trials, have demonstrated its effectiveness at reducing suicidality for up to twelve months post-discharge from a psychiatric hospital. Larger studies at the VA and involving adolescents/young adults are underway. 
"CLASP targets multiple risk factors for suicide using a unique combination of formats (in-person and telephone) and therapeutic strategies (values-goals clarification, problem solving, significant other support)," all of which are detailed in the new clinician guide, says Miller, who serves as director of the Brown DPHB Consortium for Research Innovation in Suicide Prevention. 
Before CLASP, adds Gaudiano, there were few effective, evidence-based interventions for suicide prevention. In addition, many available interventions were time- and resource-intensive. 
"The thing that makes CLASP different from other programs is its focus on clarifying and building patients' personal values," says Gaudiano, primary faculty of the Mindfulness Center at Brown and director of Butler Hospital's Transitional Outpatient Program. "The goal is to help patients build a life worth living in addition to suicide prevention. We thought that a values-focused approach would be the most effective and useful approach for patients struggling with these issues."
CLASP represents the "middle ground" between intensive psychotherapies and brief one-session interventions – approaches that, alone, have not slowed the steady rise in rates of suicide in the two decades prior to the COVID-19 pandemic, says Weinstock, director of training for the Brown University Predoctoral Clinical Psychology Internship and associate director of the Brown DPHB Consortium for Research Innovation in Suicide Prevention.
"Although data on suicide rates during the pandemic continue to emerge, it is evident that its accompanying social isolation, illness, anxiety, life stress, and loss have had a profound psychological and social impact on people's lives," she says.
Amid emerging mental health concerns, the field is also experiencing increased demand for mental health treatment combined with a shortage of professionals available to meet the needs of the community. It is therefore timely to introduce CLASP to a wider audience, Weinstock says, as CLASP is designed to address suicide risk directly with people as they transition between different levels of care – not replacing, but rather supplementing the range of treatments available, providing support to patients and their families as they navigate our often-fractured systems of care.
"As a future-oriented intervention that aims to help people delineate their values as a way to set personal goals, it is also designed to instill hope," she says. "This unique focus of the CLASP intervention seems especially important at this moment in time."
Print and digital versions of  Coping Long-Term with Active Suicide Program (CLASP): Clinician Guide are available July 22 via Oxford University Press, Barnes and Noble, Amazon, and other booksellers.