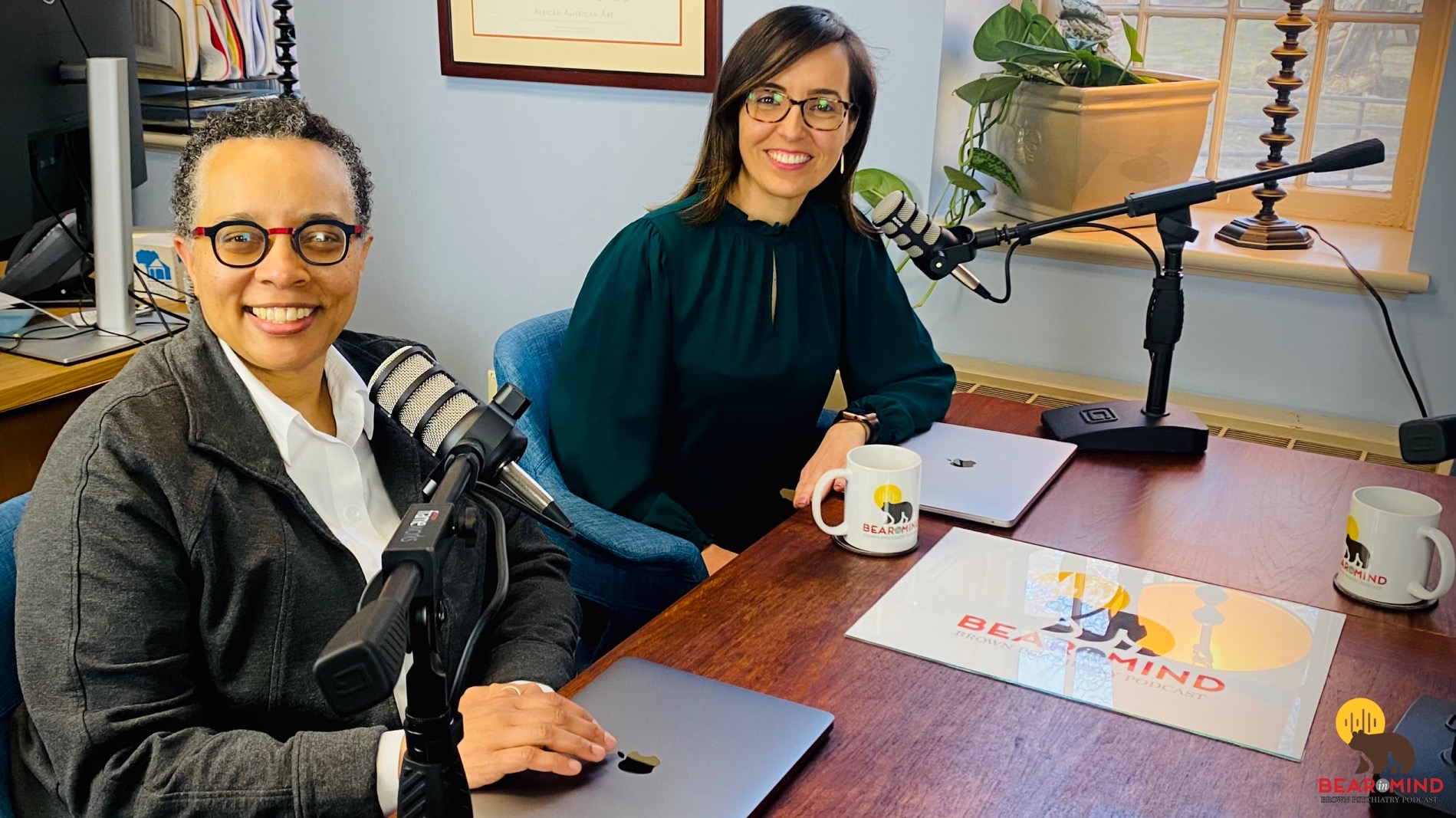 One evening, on a slow night shift, general psychiatry resident Dr. Camila Souza Alves Cosmo got to thinking about a paradox: Here she was accessing world-class research through her training at Brown while so many people relied on half-truths spread on social media. Why couldn't the education she enjoyed be accessible to everyone?
That late-night musing sparked the idea for Bear in Mind, a new mental health podcast from the Brown general psychiatry residency program, which launches Monday, May 1st on Apple podcasts, Spotify, and other popular podcast platforms. Though the concept for the podcast is straightforward – each episode features a guest expert discussing a mental health topic in a clear, engaging way – the work of bringing it to fruition has been anything but.
That eureka moment of Cosmo's? That was two years ago. 
"One of our major challenges has been finding time to develop the project since all those involved have a full work schedule," Cosmo said. "However, we volunteered our time outside of work with the hope that this podcast can serve as a platform to normalize discussions about mental health. Ultimately, we aim to collaborate in dissipating the stigma surrounding mental health disorders and facilitating access to care."
The Podcast Takes Shape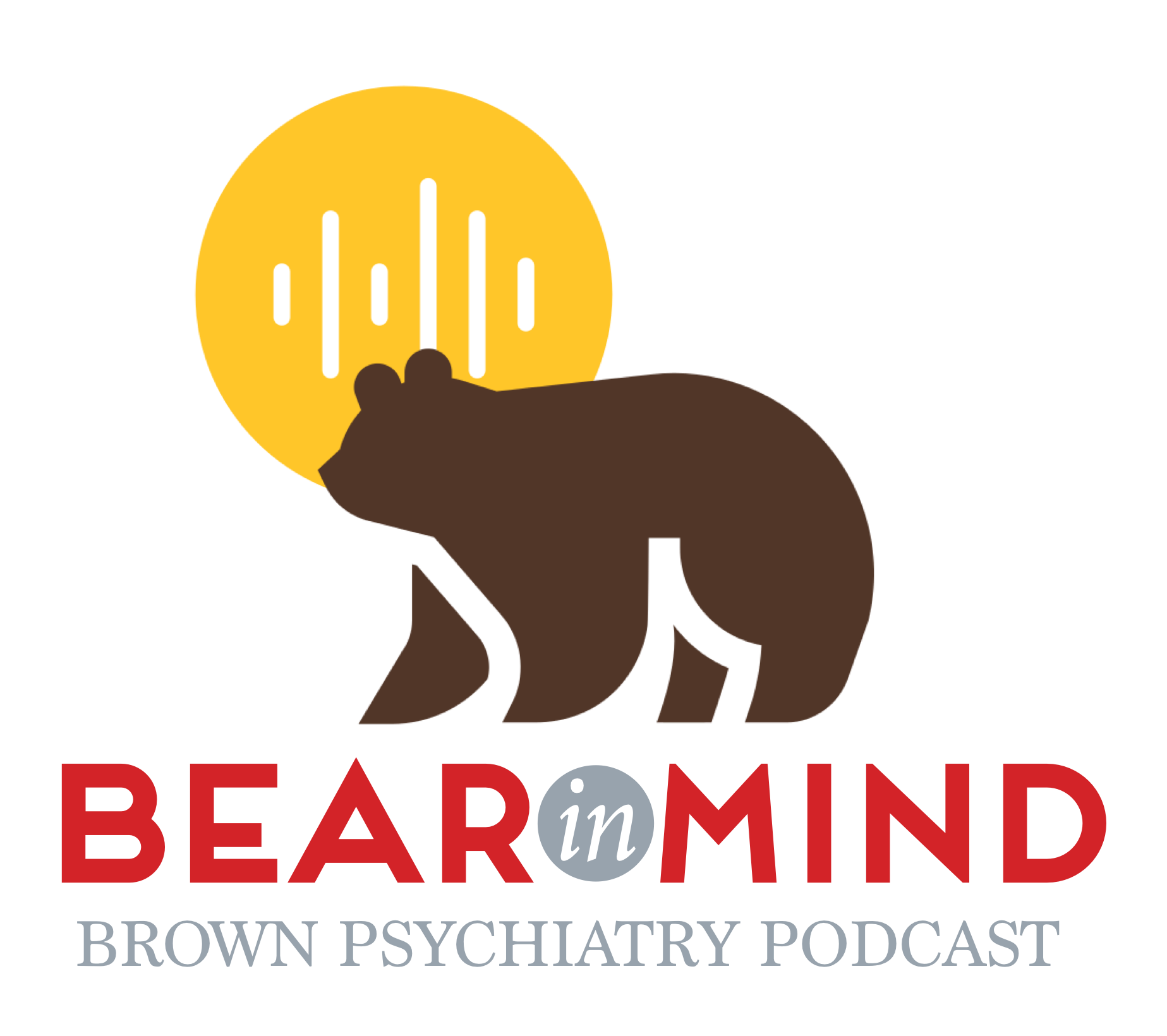 Cosmo didn't dawdle. The same night she envisioned the podcast, she emailed her program director to propose the project. Weeks later, she presented the idea to Dr. Tracey Guthrie, training director of Brown's general psychiatry residency program, and Dr. Alvaro Olivares, a clinical associate professor in the program. Olivares had some experience using mass media for mental health education, having previously hosted the radio show, "Mental Health with Dr. Olivares," on Latino Public Radio. 
With Guthrie and Olivares on board, planning for the podcast began in earnest. Guthrie secured funding for the necessary recording equipment and offered her office as a studio space. Olivares and Cosmo made plans to record episodes in Spanish and Portuguese, respectively, to reach a wider range of audiences. Cosmo's husband William Cosmo, who specializes in audio and video production, volunteered to be the show's producer and media manager. (The couple had previously worked in community radio in high school and used digital platforms for missionary work.) 
An editorial board consisting of residents and faculty formed to chart a unique course for Bear in Mind after scanning the landscape of other mental health podcasts.
"We assessed each one, considering aspects such as focus, target audience, approach, language, schedule, engagement, consistency, and episode duration and structure," Cosmo said. "We found that most were dedicated to the scientific community, which diverged from our proposal of reaching a broader community. It became clear that using conversational language was essential to bridge the gap between academia and society."
The Podcast Shapes the Residency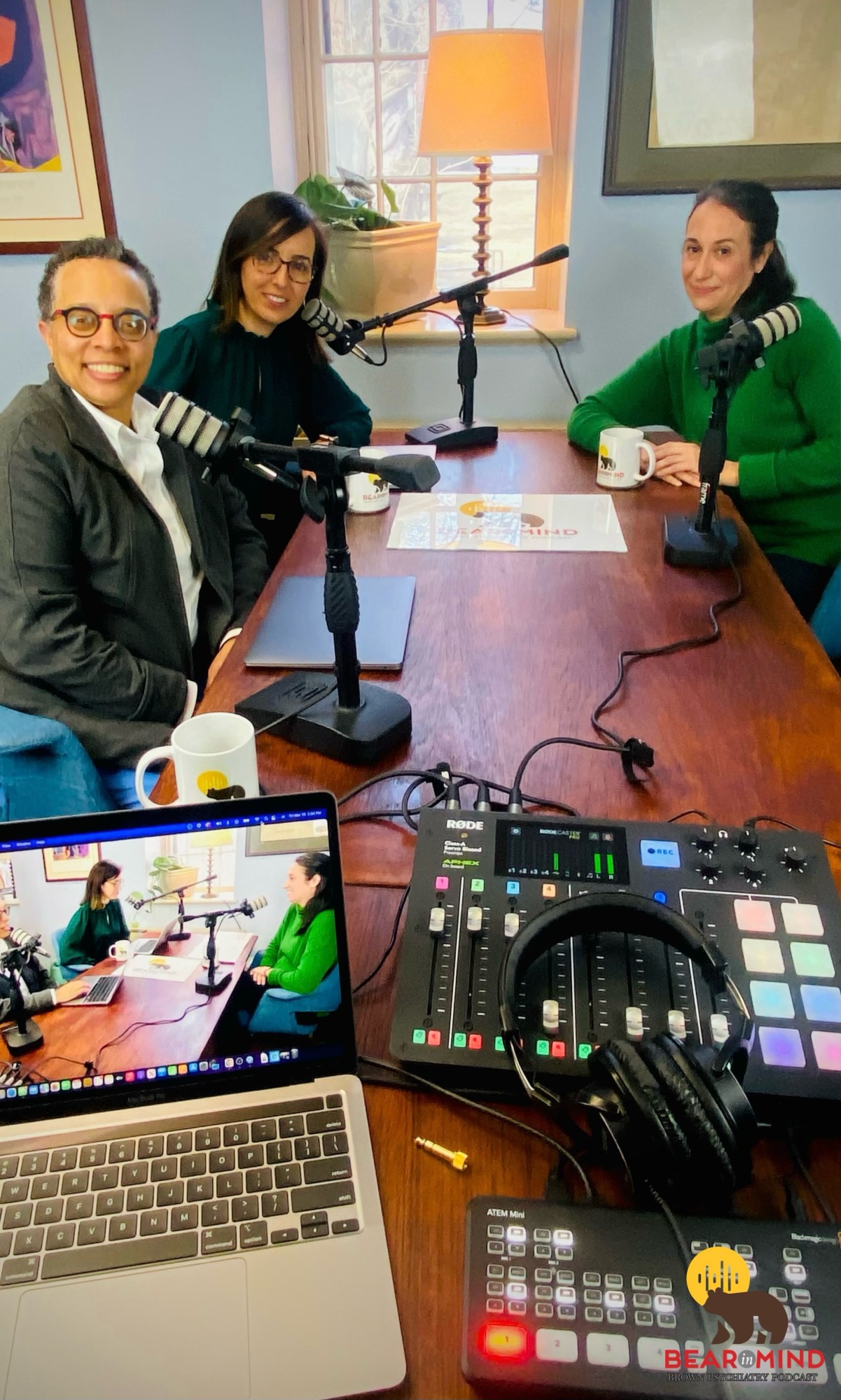 The work of creating a podcast has united residents in a mission to educate the community on pressing matters in mental health. More than ten residents have formed a new Mental Health Advocacy & Communications committee to oversee the podcast and the program's other outreach efforts. 
Meanwhile, the podcast's editorial board shepherds the show from one episode to the next. The board meets bimonthly to propose mental health topics, discuss potential guests, and nominate residents to participate in each episode of the podcast. (For each topic, two residents draft the script, and one cohosts the episode alongside Guthrie and Cosmo.) Prior to recording, a senior editorial board member reviews the script, which in turn is reviewed and edited by the co-editors-in-chief. 
"I think this is an amazing opportunity for residents to feel connected to the community, to learn how to break down complex topics into more digestible pieces so they can truly be what they're meant to be, which is a teacher," Guthrie said. "I've been so impressed with the background research they do on each topic, the scripts they write. It's unbelievably impressive."
Want to stay up-to-date on the latest episodes of Bear in Mind? Follow the podcast on Facebook, Instagram, Twitter, and YouTube.